Our Story
We've been on a journey of babies, burritos, studio moves, awards, and speedy growth—all started by a man who decided to start a business with a 2-week-old baby at home and only £1000 of personal cash to kick things off. It's true what they say: fortune favours the brave.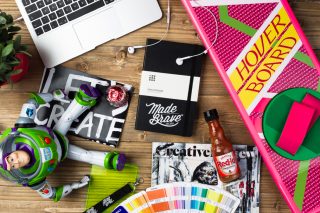 August 2011

With a 2-week old baby (goes by the name Finlay) and £1000 in the bank, MadeBrave® founder Andrew decides then is a great time to start his own business – brave, eh? He leaves his role as Creative Director and starts hosting meetings in coffee shops to get going.

December 2011

With the business going strong, Andrew decides to take a studio space in South Block, a building run by Wasps Artists Studios, so that he can focus on growing. He begins work on creating the MadeBrave® brand (awww look at our first ever brand mark).

March 2012

MadeBrave® is born, weighing (actually we don't know what we weighed). Before long, Andrew starts hiring and grows as quickly as a new born does. Work continues to flood in.

May 2013

Just like babies grow out of clothes, we out-grew our studio and moved to a bigger one, still within South Block. With a bigger space available, the team start creating the studio space they wanted. Cue purchasing of lamps and random objects (we even bought full size traffic lights though we're not sure why).

June 2013

Slash from Guns N' Roses gives us his Gibson Les Paul, we brand it and get it on our studio wall pronto.* Being a typical lighting obsessed photographer, Heed Honcho Andrew naturally decides to stick some lighting behind it, in the MadeBrave® teal colour of course.

July 2014

With so many of us now at MadeBrave®, we decide to enter the Commonwealth Games. Not wanting to miss out, we buy our own terrier dog to be our mascot. We won gold in Haggis Shot Put, Babybike Cycling and HulaHooping.

December 2014

With way more bodies than we had in January, we consider using body heat to power the macs and lamps in the studio. Santa stops by and delivers a couple more clients because we were such good boys and girls in 2014.

April 2015

As if we weren't busy enough, we decide to pac a Mac (plus 19 others) and move to our new studio in The Albus building in Glasgow's east end. Cue endless nights on Pinterest and many an impulse buy (but it was all worth it).

July 2015

In response to multiple requests for our famous MadeBrave® Moleskines, MadeBrave® Originals is born, our lifestyle brand for creative, fearless types (branding geeks launching a brand – fancy that!)

April 2016

Our Andrew Dobbie jets off to the sunny Mecca for tech geeks and design nerds (aka Silicon Valley) with TRC Media to get the inside scoop from companies like Facebook, Dropbox, Unity, Twitter and Pixar to name a few. We're not jealous (not even a little).

November 2016

One thing about filling a studio with design, digital and social media geeks is you get a lot of chat around all three. Sometimes it even spills out into doing talks all over the shop. It was right around this time that Google asked us to be partners for Glasgow's Digital Garage. After many a chest bump and too many high fives for most (we've developed calluses by now), we said yes.

December 2016

Twenty-six dashing MadeBraverinos makes our Home-Alone-themed Christmas shoot our biggest (and best!) one yet. While we always aim to make things look easy (like say, chucking a hot iron down a laundry shoot), putting this one together was more like tying a string to a door handle that fires a staple through a key hole into your you-know-what. Luckily we have a few creative types round here to help out!

January 2017

Just when you might expect things to cool off (because Winter), we hired seven MadeBravers in a oner off our "7 Days, 7 Jobs, 7 Newbies" campaign. Casa MadeBrave just got a whole lot more cosy—and we like it that way!

February 2017

Providing world-class training and development for the television and digital sectors, TRC Media (them lovely people who took Andrew to Silicon Valley in April 2016) announced they're bringing Andrew on as part of the board, which includes influencers from across the industry including senior execs from Channel 4 and BBC.

May 2017

When asked to deliver a talk to 90 top college students for Unilever, we just couldn't stay away! We talked about all things brand, social media, and even had the students break into groups to create their very own Instagram Stories. Phew, we worked up a sweat just writing that!

June 2017

Lights, camera, action — Andrew joins the board at Park Circus! Andrew said: "Park Circus represent Hollywood's best-loved movies, including tons of my own favourites, so I'm absolutely delighted to join the board. They have an amazing bank of film content and I'm really looking forward to collaborating with the team on finding new and creative ways to share it."

June 2018

Sound the new business klaxon! We are named as sole creative partner for First Bus Scotland, taking responsibility for all advertising, brand and marketing activities for the public transport provider. Andrew Jarvis, managing director for First Scotland, said: "We look forward to working closely with MadeBrave to help raise awareness of all the arduous work we are putting in to making the bus more attractive to more people."

July 2018

We don't do things by halves here, and so when we were wanted to do 'something more' with our values, there was really only one answer — paint the walls! And so started an epic project of redecorating our studio, using different artists and styles, to bring each value to life. Find about each project and artist here.

August 2018

As the great man, Vanilla Ice once said: "all right stop, collaborate and listen", and we certainly did that when MadeBrave acquired Campfire, an Edinburgh based creative video agency. The move creates a new holding company, called BornOriginal Group and will see each agency to continue to operate independently.

Also August 2018

Not content to let our brand values sit quietly on an 'about us' page collecting dust, we start hiring a-list creatives left and right to help us bring each of them to life through murals, music, and more!

October 2019

We break out the whiteboards, the giant Post-its, and multi-coloured Sharpies to partner with none other than brand legend Marty Neumeier to deliver a two-day brand masterclass with branding geeks from all over the UK and Ireland. We have to pinch ourselves several times to make sure we aren't dreaming.

June 2020

After a couple of B-E-A-UTIFUL years of creating some of our best work together, we decide there's just no helping it—our pals at Campfire are the peanut butter to our MadeBrave jelly. We join forces under the MadeBrave banner so that our new team of over 40 humans (and 2 doggos) can do even better work for our clients.