How we used comedy to get car drivers on board with taking the bus
First Bus is one of the UK's largest bus operators. They are focused on becoming a leader in the transition to a low-carbon future and are committed to operating a zero-emission bus fleet in the UK by 2035.
We're really proud to have established ourselves as strategic creative partners of First Bus over the years, developing an impactful proposition and working to transform perceptions of bus travel by amplifying the benefits of bus travel.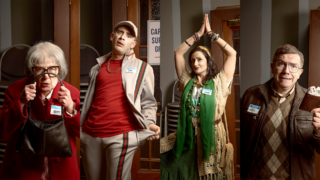 The Brief
First Bus asked us to deliver an integrated campaign to change perceptions of bus travel and encourage daily car drivers to consider using the bus as an alternative, showing them how taking the bus can free them from the hassle, expense, and responsibility of driving a car. We needed to create an impactful and memorable campaign to dispel common misperceptions around bus travel and highlight the many pain points of car travel, especially among daily car drivers.
Strategy & Insights
Our research showed a key issue is that cars are perceived to provide the ultimate freedom, which comes as no surprise considering car brands spend over $1B a year in the UK alone driving this home. In reality, this "freedom" comes with many strings attached: MOTs, parking fees & fines, depreciation, and other negative factors buses are simply free from.
This insight led us to a new proposition – First Bus frees people from the burden of car travel.
The Idea
We hit upon the idea of using a support group setting for the concept. By using something people are familiar with, we instantly created recognition and understanding, but with an element of intrigue.
We created four hero characters taking part in a 'Car User Support Group', confessing to the various challenges surrounding their car habits. This allowed us to use humour to shine a light on commonly experienced pain points of car ownership and travel, while simultaneously communicating the benefit of bus travel.
Hero film
This involved four exaggerated characters with a supporting cast, all interacting and discussing their 'car habit' in a round robin conversation style where each confession was increasingly absurd. Each character reflected various pain points, allowing us to convey different messages to resonate with a wider audience. This hero film was then used across television, social, and digital.
Cutdowns
To accompany the main hero film and give the campaign additional content for increased longevity, we also created four individual character confession films. These allowed us to focus on each character and expand on the pain points experienced in car ownership which bus travel could solve.
Behind the scenes with First Bus