---
First Bus is one of the UK's biggest bus companies with over 1.6 million daily customers.
---
First launched in 1995, First Bus has recently given their buses a major overhaul, to make every single journey more convenient and enjoyable than ever.
When we became their sole creative agency for Scotland, we developed a new brand position and showed how we could bring these launches to life through engaging and creative activations that echoed this new statement. Lucky for us, they loved our ideas.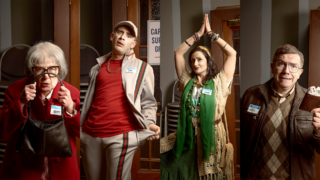 First Bus integrated campaign
---
Deliverables

Hero film
Cutdowns
Social & display ads
Radio ad
Internal launch activation
Behind the scenes film
---
How we used comedy to get car drivers on board with taking the bus
First Bus asked us to deliver an integrated campaign to change perceptions of bus travel and encourage daily car drivers to consider using the bus as an alternative, showing them how taking the bus can free them from the hassle, expense, and responsibility of driving a car.
We needed to create an impactful and memorable campaign to dispel common misperceptions around bus travel and highlight the many pain points of car travel, especially among daily car drivers.
First Bus experiential brand activation & VR tour
---
Deliverables

Experiential brand activation
Immersive VR experience
Custom Instagram AR filter
---
How we created an experiential brand activation to showcase First Bus' environmental commitment at COP26.
It's no secret the impact of carbon emissions on the planet is significant. In response First Bus took action to accelerate decarbonisation and improve local air quality by committing to have a completely zero-emission fleet by 2035.
With COP26 just around the corner we were asked to help First Bus engage with COP26 delegates on both of these topics and create an emotional connection with them through an immersive experiential journey.
First Bus New Fleet Launch Brand Activation
---
Deliverables

Brand Activation
3D Animation
Launch Campaign
---
How we helped First Bus change perceptions of bus travel by amplifying the benefits of their new fleet
We were asked to deliver an experiential marketing activation to celebrate the launch of 75 new-and-improved buses across Glasgow as part of a multi-channel campaign. The aim? Change perceptions of bus travel by amplifying the benefits of the new fleet, including low emissions, charging points, and free Wi-Fi.
First Bus Promotional Campaign
---
Deliverables

Campaign
3D Animation
Design
Copywriting
---
How we increased ticket sales by over 50% with giant ice lollies
First Bus created their 'Kids Go Free' promotion to encourage more parents to use the bus over the summer holidays and access local activities in a cost-effective way. Everything was based around this key benefit (saving money) and that by saving money on travel, parents can do more with their children.
We were asked to create a multi-channel campaign around the promotion to increase awareness and passenger numbers.
Bright Bus Tours Brand Strategy & Launch Campaign
---
Deliverables

Brand strategy
Brand naming & identity
Marketing strategy
Experiential launch campaign
---
How we launched a new bus brand in just three months
Back in April 2019, First Bus presented us with their new business plan to launch a tour service in Edinburgh. They approached us to develop the identity, positioning and also roll out a strategy. With a set launch date in early July (just in time for the Edinburgh Fringe) the entire project was to be completed in just three months.
Inspired by the name, we specifically designed the Bright Bus Tour fleet to stand out from the rest. Designed with vivid, clashing, eye-catching colours and some of Edinburgh's most iconic landmarks, you couldn't miss them if you tried.